December 14, 2010 in Cooking Gadgets, Product Review, Review
As we near Christmas day, you might be (like me) not figuring out any of your Christmas gifts. :-p While I'm not proud of this fact, I do find myself working better under pressure (sometimes), so hopefully it will work to my advantage and I'll figure out all my gifts in the next couple of days. The best part of gift-shopping is the shopping part – browsing the aisles and coming across cool new gadgets and new fashions (and maybe buying one little mini-pre-Christmas treat for myself! hah) The worst part of gift-shopping is trying to become the world's most talented mind-reader:
"What would grandma really like?"
"Is my twelve-year-old cousin going to think this boy band CD is lame?"
"What can I get my sister who has everything?"
…and so on.
The process gets a little easier if the person you're shopping for is known for loving something… Say for example you know that your aunt loves to knit, a fool-proof gift would be a new canvas or a knitting workshop gift card or some luxurious cloth… you get the gist. For people who like to cook (and for people who like to eat), the process similarly becomes easier. If you know that they are due for a new kitchen gadget, then you're in luck. Otherwise, you can always get them a gift card and pair it with a nifty little kitchen tool or a hard-to-find ingredient for their recipes.
Here are some ideas to get the ball rolling
1. Spice Rack
You can't really go wrong with a spice rack – anyone who loves to cook can appreciate the gesture. If it's filled with organic, fresh spices – that's even better. Non-organic spices are often irradiated, so opt for organic if possible. If it's a pretty structure to decorate the counter, you've got yourself a keeper. Buy one for yourself while you're at it!
2. Glass or Stainless Steel Electric Teapot
If you know your dad is a tea-lover, then this is could be the ideal gift. Electric tea-kettles are so useful – they heat up the water in a couple of minutes and you don't have to worry about forgetting to turn off the stove. The glass ones are really pretty but the stainless steel ones are just as functional. Stay away from plastic ones… the heated water can easily interact with the plastic and release harmful chemicals. Gross.
3. Food Processor
This is a bit costly, but it's one of the most useful kitchen machines you will find. This would be especially handy for a "I like to make it from scratch" type of person. It's for a true cook at heart.
4. Bamboo Cutting Board
It doesn't have to come in a distinct shape, but doesn't that make it so much cuter!? I don't know anyone who has too many cutting boards. They definitely come in handy when preparing several different meals at the same time (for a dinner party). Another perk: They barely take any room in the cabinet!
5. Digital Nutritional Scale
This is also on the pricey side – but it's one of the niftiest kitchen gadgets anyone can own. For any health-conscious cook, this will be a special treat. Most of these can count calories, protein, carbohydrates, total sugars, total fat, fiber, sodium, cholesterol, net carbohydrates and glycemic index value of your foods. Let me tell you this much: this is a gift that will be appreciated even more after New Year's.
6. Mortar & Pestle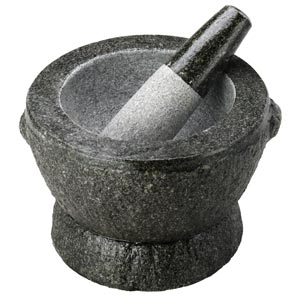 For any guacamole-lovers, this is the ideal gift.
If you've ever tried making homemade guacamole from ripe Haas avocados, you probably realized that you need one of those! We found a marble one at Sur la Table, but one that is made out of basalt or another rock is probably a good choice too. Avoid light ones made out of plastic – they're useless.
7. Bullet Blender (for smoothies!)
You can give this gift to even the laziest cook. Most bachelors don't own a ton  of kitchen gadgets (unless they're avid cooks), but a bullet blender is one of those things that just begs to be used (even by a college dude!). It's perfect for those who want to stay in shape and make a delicious fruit smoothie after a heavy workout.
8. Cookbook
This is a very obvious one but I thought I'd list it anyway. I have so many cookbooks, but I will never refuse another one.
If you're trying to help a loved one get more creative with dinner during the week, or if s/he is trying to stay in shape, you are sure to find a cookbook with recipes for every taste.
9. Garlic Press, Pie Cutter, Microplane Grater, Turkey Baster… and the stocking-stuffer gadget list goes on.
If you need a little gift on top of the big one you bought or if you're looking for a practical stocking stuffer, you can't go wrong with a sturdy, high-quality kitchen gadget. If you're also for promoting good health, maybe you should stay away from the ice cream scoop and purchase the garlic press instead. Really, people should try to incorporate more garlic into their diets!
10. Steamer Pot
Steaming is one of the least destructive ways of cooking raw vegetables because it doesn't destroy the vitamins and minerals. Adding spices, nuts, seeds, and other healthy dressings to lightly steamed vegetables is a great idea. Consider getting a steamer as a gift along with a little cookbook or booklet that gives some healthy recipes of steaming vegetables to go along with it.
Which of these is your idea of a good Christmas gift (assuming you're a foodie of course) ?
*This post was sponsored by Wild Card.*